0.49 acres of Flat Rural Vacant Land with No Restrictions.
Rural and unsrestricted with 340 Feet of Hwy 33 road frontage!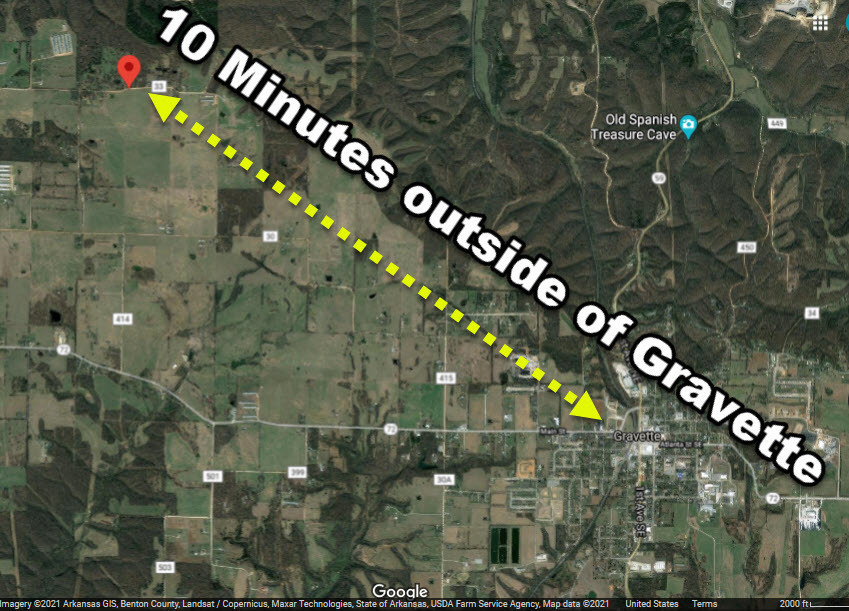 0.49 acres of rural raw vacant land with NO Restrictions!  Build or Park what you'd like.  RV's, and Camping Allowed.
Asking $2,999 obo ALL OFFERS CONSIDERED
WHY? Because:
-Lot is actually more like 0.35 acres because the boundary lines overlap the road.
-Farmer's fence along road is currently blocking this property.
-Buy this property cheap and deal with the fence and farmer yourself because we don't want to.
-Survey screenshots show boundary lines to be 0.49 acre (NOT 0.84 as the County says)
-Conventional septic will not be approved by Health Dept due to shape and size of property.
-Rural and unsrestricted with 340 Feet of Hwy 33 road frontage.
-Perhaps you can set up a shop, shed, storage, roadside stand, or park a 5th wheel
ID# 4268
Approximate Address: Big Springs Rd (Hwy 33) Gravette, AR 72736
Accurate GPS Coordinates:36.448831, -94.502299
Sale Price $ 2,999 cash obo ALL OFFERS CONSIDERED
County Appraised Vallue $4,300
Size: 0.49 acres, BUT boundaries overlap the road, so more like 0.35 acres of viable land
Restrictions: rural; no restrictions
Mobile Home, RV's, and Camping Allowed
Property Type: Vacant Raw Rural Land
Zoned: RES
Annual Taxes: $ 35.10
Lot Desc: Cleared
Topography: Flat
Alternative Septic Required; No sewer, no conventional septic approval
Electricity: Less than Carroll Electric in ¼ mile away
Noel Water Co Inc Available less than ½ mile away
Road Access: Yes
Gravette School District
Message Me Your Offer with ID#,   602 726 0082 -Kasey
          It all starts with a dream and a deed and it's our mission to help you get there!
Mineral rights may not convey. Seller makes no claims or guarantees regarding the property, its use, and its condition. Buyer responsible for own due diligence regarding property, its use codes, obtaining permits, connecting utilities, and any other future plans buyer can conceive of. Cash sale document fee of $160 applies, buyer pays closing costs.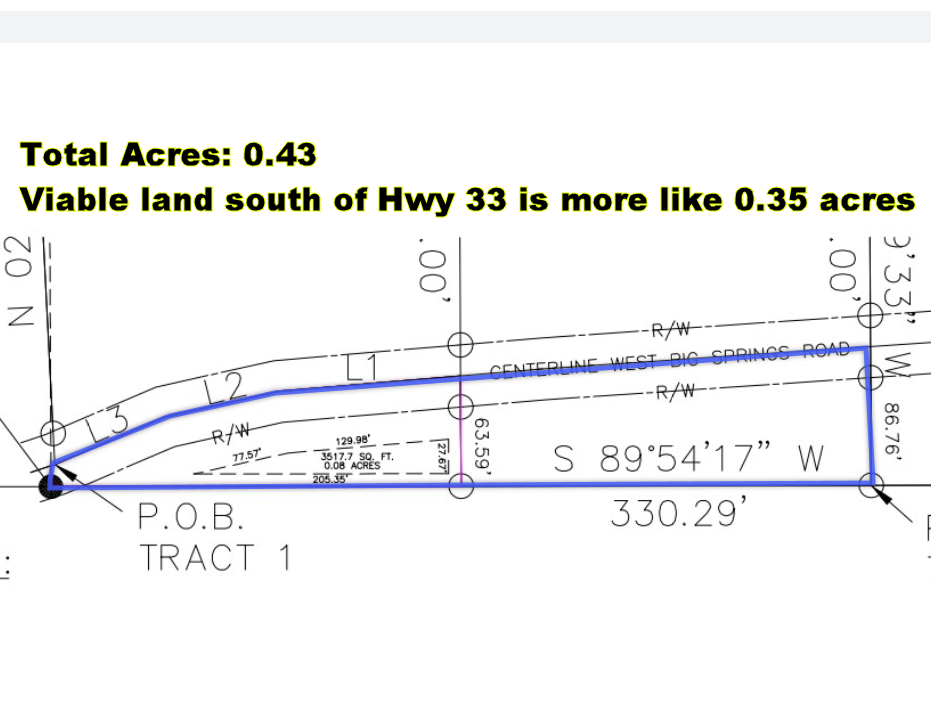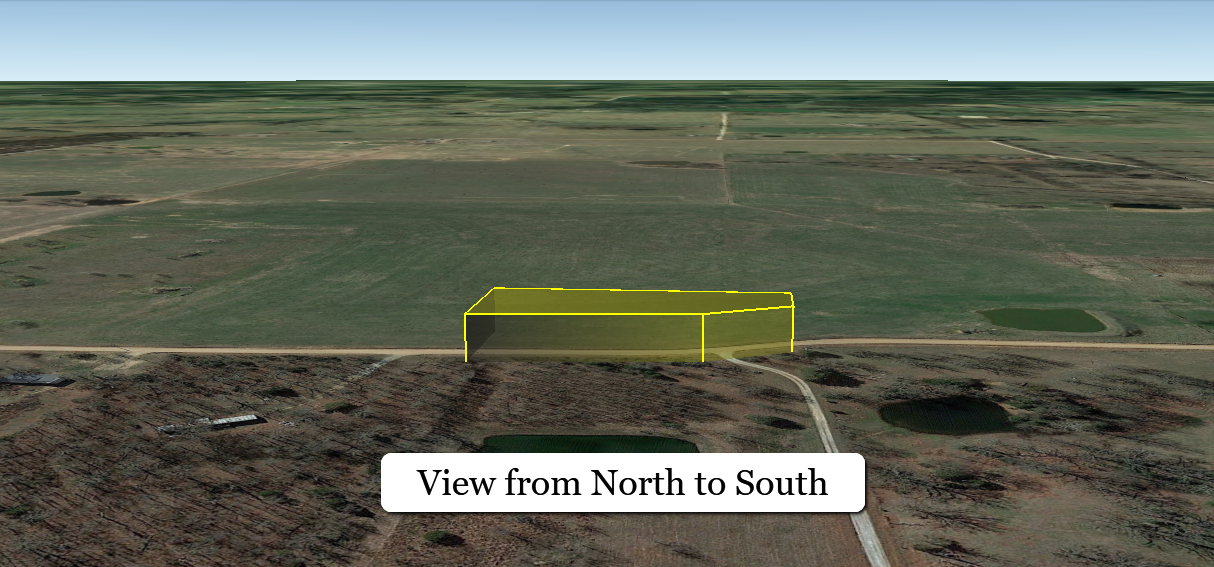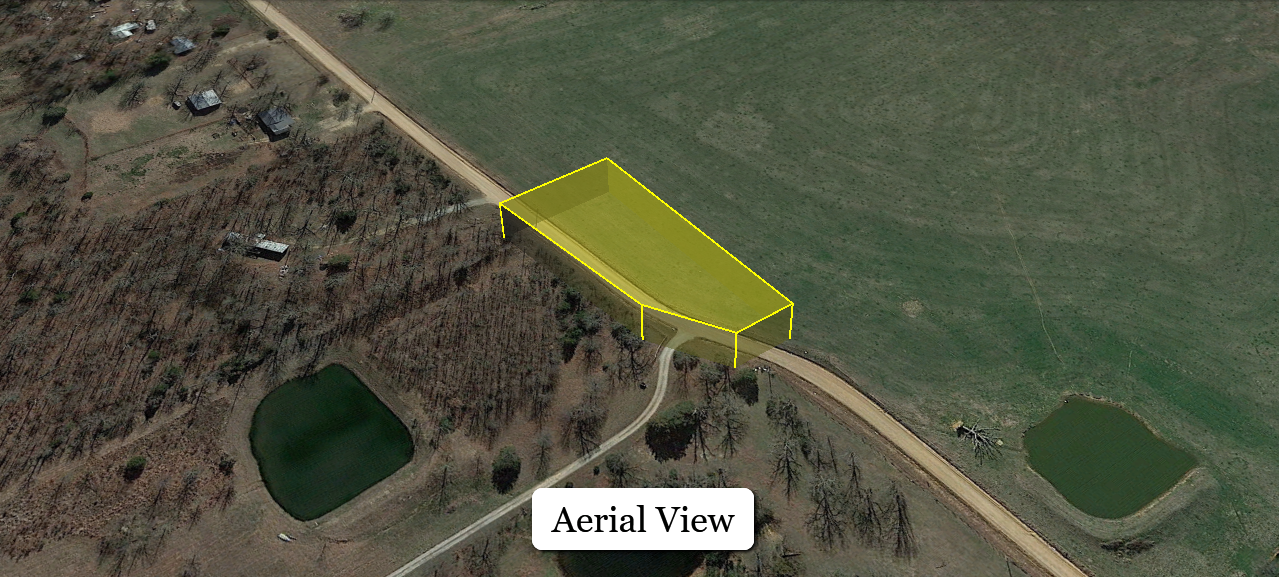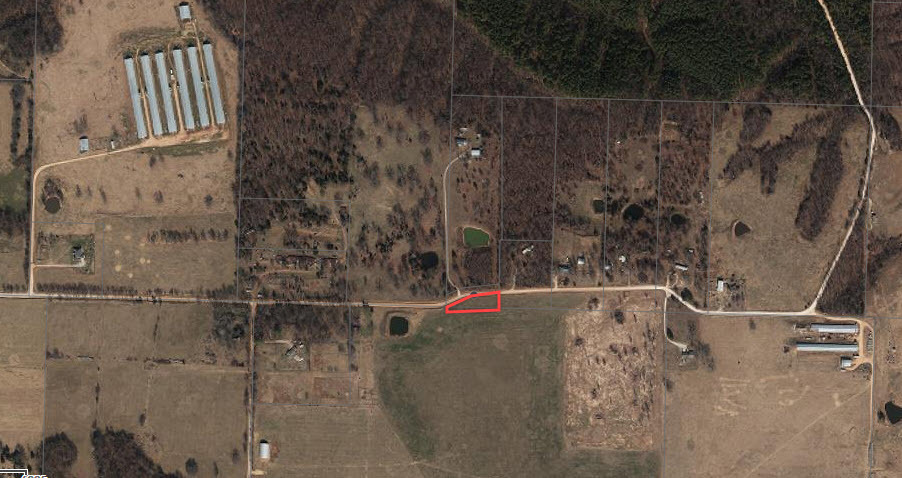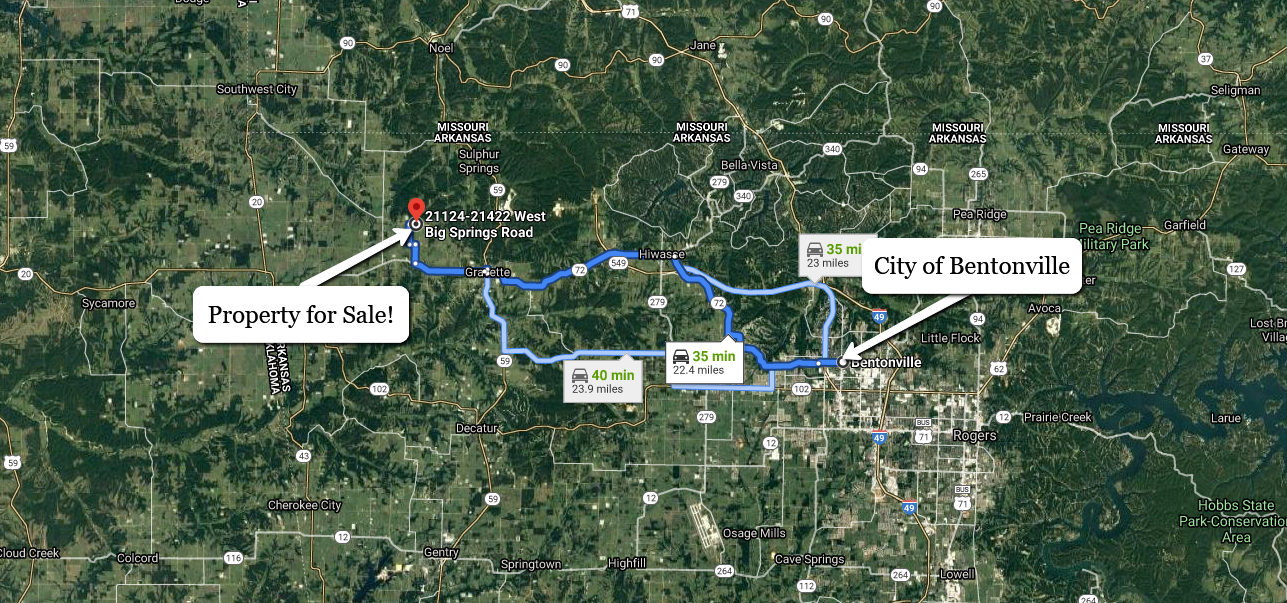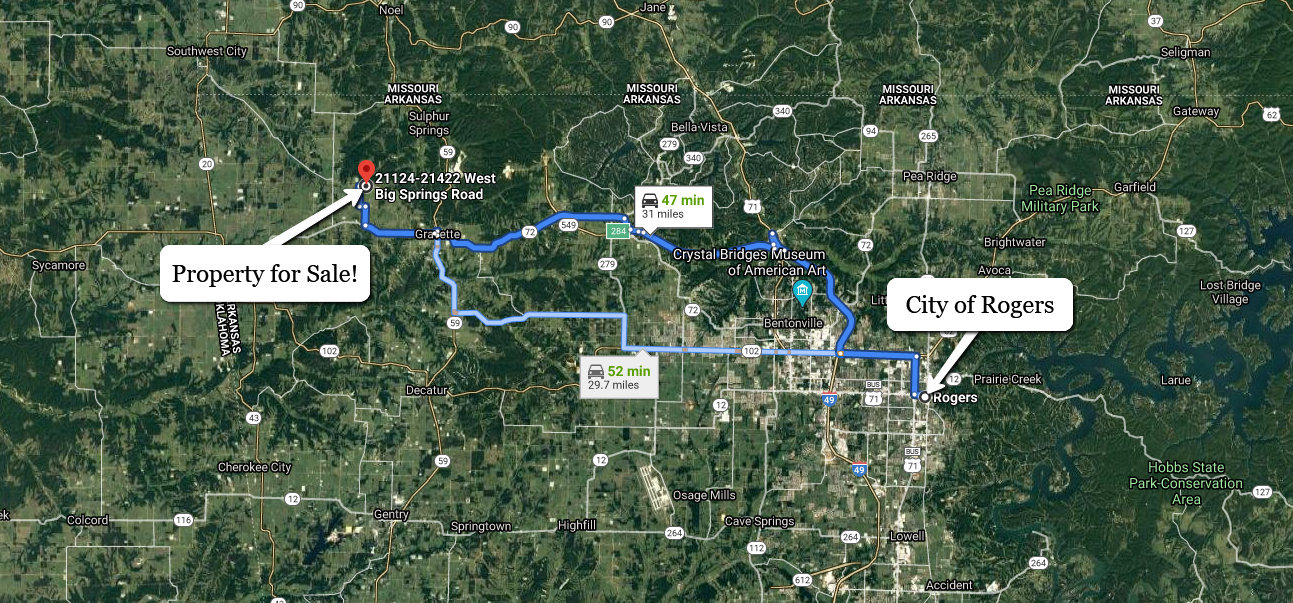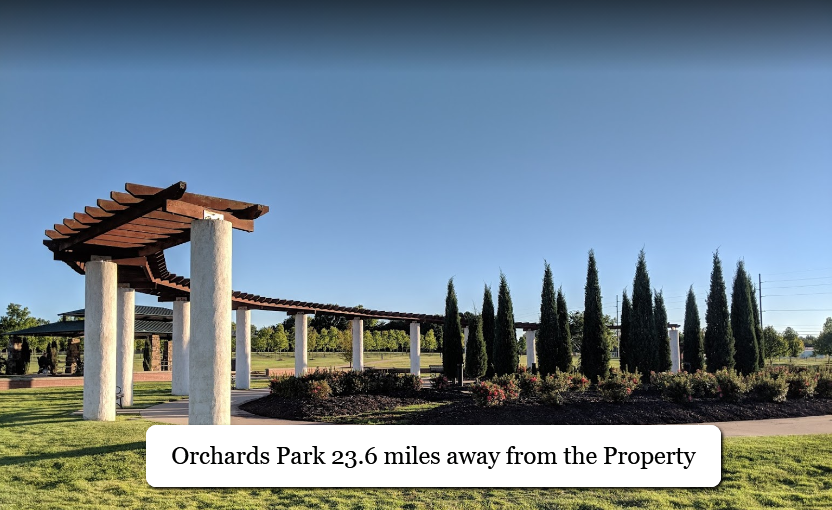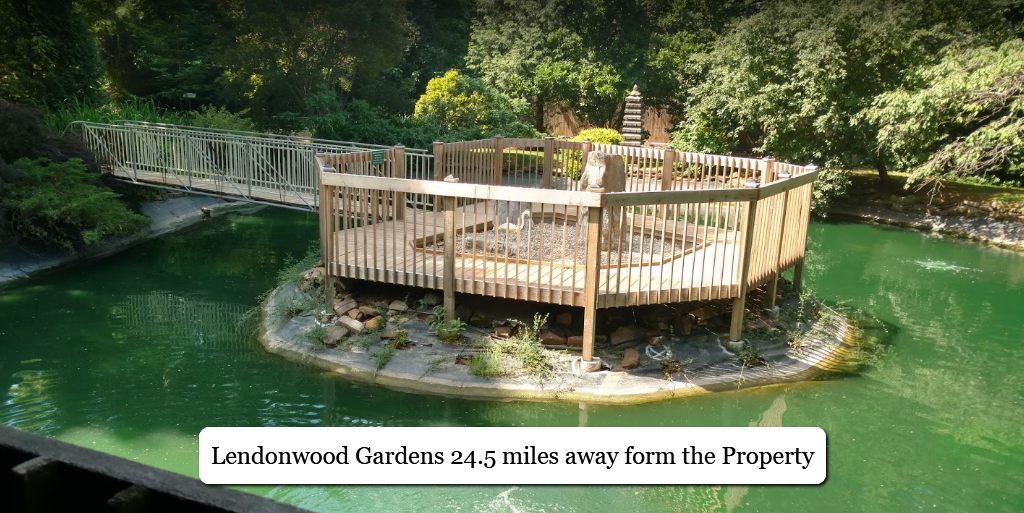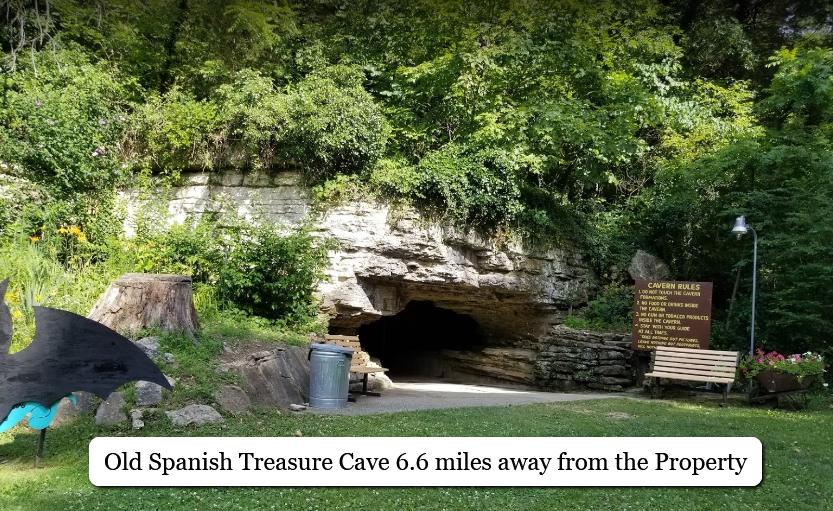 Map To Property
Property Address:
Property Details
Status: Available
State: AR
County: Benton
Parcel Number: 18-15645-001
Short Legal Description: PART OF THE SE 1/4 OF THE SW 1/4 SEC 33 TW[ 21N RNG 33W SITUATED 990 FT. WEST OF THE SOUTHEAST CORNER OF THE SE 1/4 OF THE SW 1/4 AT A POINT ON THE SOUTH SIDE OF COUNTY ROAD RUNNING GENERALLY EAST AND WEST (BIG SPRINGS ROAD) TO A POINT OF BEGINNING. B
Annual Property Taxes: 35.1
Size (In Acres): 0.49
Road Access: Yes - Paved
Electricity: Yes
Zoning: RES
Terrain: Flat
Similar properties in the area are listed or have been recently sold for around $4,300.
Buy this property today for just $2,999! (You save $1,301)
To purchase this property today call Kasey at 602-726-0082 now!
I'm Interested In This Property